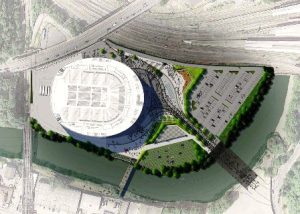 A planning application has been submitted for the Arena site. There has been some fuss made about parking provision, but what will it be like for those arriving on foot? Both those doing the whole journey on foot, and those walking from bus stops and car parks?
There will be provision for those arriving on foot from Temple Meads, via a new boardwalk along the river to Totterdown basin, and over the newly-built bridge from Cattle Market Road.
For those coming from the south along Bath Road, the shared-use pavement from the Three Lamps junction will be widened, and there will be a ramp down to the Arena site.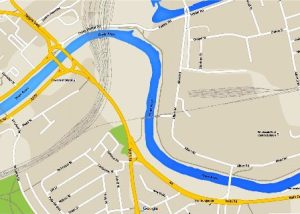 But not everyone will arrive from those directions. The pedestrian approach from the north and west (ie directions leading to Bath Road Bridge, including York Road and Mead Street from the West) will be awful – dominated by motor traffic, with long waits to cross at junctions. It will be possible to access the site down steps from Bath Road, but walkers may prefer to take a longer route via Cattle Market Road. [Use this link for the Google map of the area.]
Bath Road is a harsh environment for the whole distance between Three Lamps and Cattle Market Road. The Bath Road is such a key route that it needs two lanes for motorised traffic in either direction, and that doesn't leave enough room for other transport modes to use the route comfortably. It would take a new bridge over the railway to make it a pleasant route for walkers.
More details of the Arena proposal are set out in this slide presentation [PDF, 4,678KB] to the Cabot Neighbourhood Forum meeting in December 2015.