BWA objected to the first three applications for BT Street Hubs (large dual-sided advertising signs with phones and wifi) made in 2021. Two were refused by the council and the third approved after being re-sited.
Now a further 26 applications have been made at other sites across the city centre and along Gloucester Road. They are all sited on pavements with varying potential to block pedestrian access.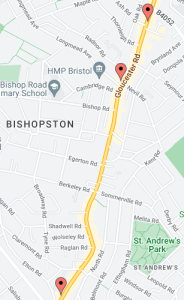 BWA has submitted an objection to all 26 proposed sites, based on their detrimental effect on both safety and amenity.
The units are almost 3m high and over 1.2m wide, with large internally illuminated advertising panels. They obstruct the pavement, are visually intrusive and are a distraction to passing vehicle drivers. Six of them are located in conservation areas.
UPDATE 20th Nov 2022:
Another application has appeared since our objection was drafted, bringing the total to 27 BT Street Hub applications. We have submitted a further objection to this additional site in Stokes Croft.