In a recent study (paper in PDF format) by researchers at Stanford University, Indonesia, the world's fourth-most-populous nation, came in last among 46 countries and territories for the number of walking steps its citizens take, averaging only 3,513 a day.
By comparison, Hong Kong was first with 6,880, and China second with 6,189. Ukraine, Japan and Russia rounded out the top five. The study tracked 717,000 people in 111 countries, who voluntarily monitored 68 million days of activity using an app on their smartphones and watch devices that was designed by Stanford researchers — the largest such tracking study ever, the researchers said. Each place needed to have at least 1,000 participants to be ranked in the report.
Jakarta, an urban sprawl of approximately 10 million people, with a metropolitan region of about 30 million, is the poster child of the nation's walking woes. Only 7 percent of the capital's 4,500 miles of road have sidewalks, according to local government data. That is from Joe Cochrane at the NYT, quoted by Tyler Cowen in Marginalrevolution.
The UK does very poorly (36th most inactive out of 46 countries). By comparison our social democratic cousins do very well: Sweden is 3rd most active, Norway is 8th, Netherlands is 10th, Denmark is 13th. The US does poorly at No 42, but change is coming.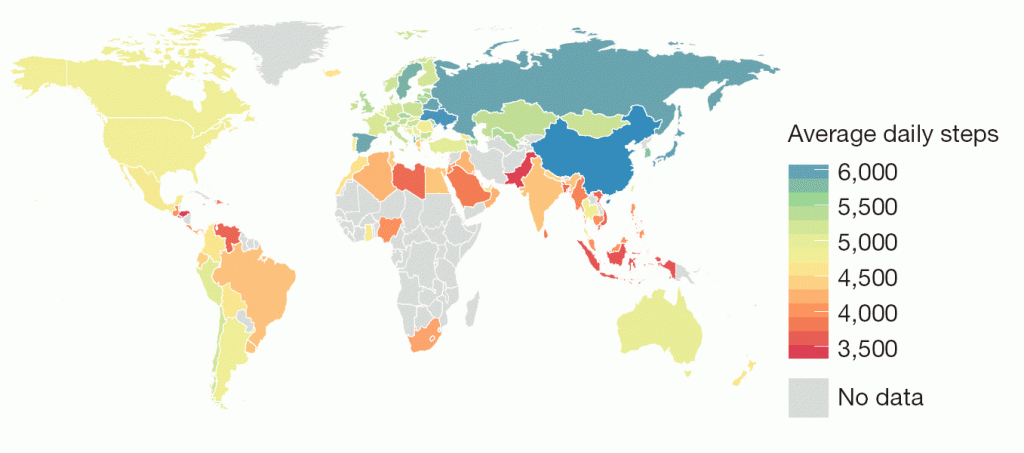 A key issue is that the most inactive countries also have higher levels of "activity inequality", i.e. some active people, but some very inactive people, raising obesity levels. "Individuals in the five countries with highest activity inequality are 196% more likely to be obese than individuals from the five countries with the lowest activity inequality," notes a report of the results in Nature.
There are interesting sex differences. Women's "inactivity level" rises more strongly than men's as countries move up the inactivity scale. Not good for women! Women have another reason for preferring to live in active countries: women's health gains more from activity. Becoming active is much more strongly correlated with a decline in obesity in women than in men.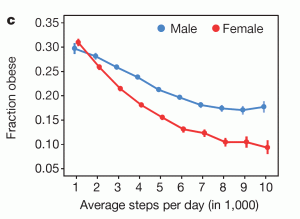 Readers of this blog will need little convincing that we need to move away from sitting in cars, to more walking. This study demonstrates how much this would improve our health, and in particular women's health. Walking is a feminist issue!